Seiichirō Sano

Kanji
佐野 清一郎
Rōmaji
Sano Seiichirō
Characteristics
Birthdate
February 6[1]
Age
15[1]
Gender
Male
Race
Humans
Hair color
Black
Eye color
Brown
Blood type
O[1]
Status
Occupation
High school student
Abilities
Change towels into iron
Affiliation
Inumaru
Team
Robert's Ten (left)
Team Ueki
Misc. Information
Manga debut
Chapter 6
Anime debut
Episode 2
Japanese voice actor
Soichiro Hoshi
English voice actor
Beau Thompson
Seiichirō Sano is a 9th grader at Inaho Junior High School, was known as the Genius of Robert's Ten while he was part of it. But he had joined because the leader of Robert's Ten - Carpaccio - had placed a Death Pentagon on Sano's King of the Celestial World Candidate Inumaru that would kill him by removing all his blood unless he listened to Robert.
Background
Edit
He has a burn over his left eye which was caused during an accident with a hot spring. Still, he does love those hot springs and hopes to get the blank talent to obtain the talent of discovery in order to find a hot spring of his own.
Personality
Edit
For the most part, Sano is a cunning strategist, utilizing this trait to outwit enemies. At other times, Sano's pugnacity can get the better of him where his reckless side comes out. Like Ueki, Sano has a dutiful sense of justice that always urges him to help others; and because of this characteristic, Sano and Ueki see eye to eye.
Appearance
Edit
Sano is seen wearing a white hot spring robe at all times. His wardrobe also consists of socked sandals and a white headband. His physical characteristics include a scar on his left eye and dark blue/black hair.
Abilities
Edit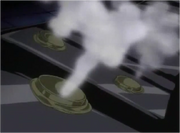 Sano's ability is the power to change towels into steel while holding his breath. This power may not seem all that great but he can be creative with his power giving him title known as the Genius of Robert's Ten. Even not being a heavenly being he is strong enough to fight on equal footing against the 6 star Kosuke Ueki (but Ueki was fighting at a 5 star level).
Sano's level 2 ability is the ability to induce magnetism into the metal plates he creates from towels. The magnetic field generated is extremely strong as it is seen to pull bullets out of their trajectory. Like most level 2 abilities, Sano's ability can be activated on command thus allowing him to use his strategic abilities to their full potential. He even used the super-magnetism ability to retire Diegostar by headbutting him when he launched himself as a railgun projectile.
References
Edit
Community content is available under
CC-BY-SA
unless otherwise noted.